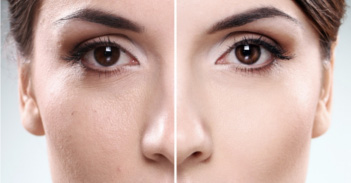 A Photofacial is light modulation which helps to stimulate cells improving texture, colour and firmness of the skin reducing the appearance of aging and damaged skin. Treatments can be used as maintenance for generally improving skin or for special events like "freshening a bride's complexion" on her wedding day.
Red LED: Good for healing Eg: burns, scars pre and post operative scarring, and acne scarring. This helps with promoting collagen production. Calming any reactions. Creates a brighter, clearer complexion, plumps up fine lines and wrinkles.
Blue LED: Good for infected acne thus shrinking sebaceous glands, cold sores, bee stings and hot wet infected rashes.
Yellow LED: Good for hyperpigmentation, darkness under the eyes and smoothing colour.
Green LED: Good for redness, rosacea, puffiness and some deep-seated acne.
Pulsed light: LED used in conjuction with pulse light will help with rejuvenation.
Price ranges dependant upon what LED panel colours prescribed and in conjunction with Pulsed Light Photo rejuvenation. This is why a free consultation is necessary to acheive what individual concerns and results are needed and addressed.