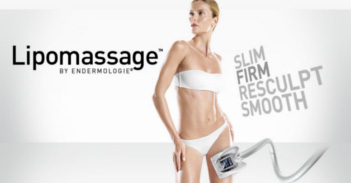 Lipomassage is a cutting edge treatment in the war against stubborn fat that doesn't respond to diet and exercise. This revolutionary approach is non-invasive and backed by research, and takes roughly 10 minutes to treat a given area. It works by targeting fat which is trapped in specific locations around the body, such as the arms, stomach, thighs, knees and hips.
Lipomassage Treatment in Brunswick, Ascot Vale and Moonee Ponds
We offer lipomassage for residents in Moonee Ponds, Brunswick, Ascot Vale and surrounding areas as part of our range of services. Special body suits are required to undergo treatment and can be purchased or borrowed from the clinic.
Key information about lipomassage and endermologie
Endermologie is a holistic treatment that offers a variety of benefits to your body, including improve skin tone and texture, detox, firming and contouring, reduction in water retention, removal of cellulite, decreased fluid build-up and increased metabolism. The treatment is applied through a specialised device (in use since 1986 with French origins) that massages connective tissue using rollers and suction. It is often used concurrently with liposuction — both before and after the procedure — to produce effective results. An initial consultation will determine the three key areas the patient wishes to focus as weight and measurements are recorded for future reference. This is followed by two appointments per week of approximately 10-30 treatments each.
Lipomassage is a derivative of endermologie and is applied to treat particularly stubborn fat found in localised areas. As it requires a higher intensity of treatment, some individuals may find the process painful.
Requirements before and after endermologie and lipomassage treatment
You will need rent or buy a specially developed body suit from our clinic to ensure efficiency, hygiene and modesty as you undergo treatment.
If purchased, keep the suit clean and in good condition by washing within a pantyhose bag. Handle it carefully as the fabric can ladder if treated poorly, and remember to bring it to your appointment to avoid the cost of rental.
Because lipomassage is a more intense derivative of endermologie, you may see some localised bruising where treatment has been applied.
Stay hydrated with plenty of water both pre and post treatment (8-12 glasses per day is ideal)
Consume a moderate diet — the more meat, vegetables and fruit you have, the better!
Because the treatment pushes toxins out of the target area and around the body, some customers may feel a slight headache after their appointment.
Do not smoke — if you do have a cigarette after treatment, try to hold it off as long as you can
You should not consume any medication, alcohol or drugs on the day of your treatment. If in doubt, be honest with your therapist and discuss your situation.
It is imperative that you raise your heart rate through exercise after the treatment has finished. This should be done within 4-6 hours to ensure energy is burned and fats do not resettle in your body.
Laser, pulsed light and other heated treatments are NOT to be applied to the target areas on the same day.
Inform your therapist of any updates to your medical history including new medications, allergies and illnesses to ensure your health and wellbeing is a priority.
Carefully plan your appointments as there will be a fee for cancellations.
Contact our clinic for enquiries, pricing and appointments
Prepaying of treatments in a package form can help you save. For more information, get in touch with our skin and beauty clinic on the details below and we will be happy to answer any of your enquiries. If you are looking for a clinic offering lipomassage in Brunswick, Ascot Vale, Moonee Ponds and the surrounding area, call DM Laser today.
Landline:  9372 0399
Mobile:     0419 387 186
PLEASE CONTACT OUR CLINIC A.S.A.P IF YOU HAVE ANY PROBLEMS
Important things to consider
These treatments are designed to combine with changes and management of your lifestyle
You only get out what you put in. Do not expect the best results if you do not follow our guidelines
70% is up to you regarding your diet, water, lifestyle and exercise
5% is all about your general health (e.g. polocystic ovaries, medications) and age (the older the slower the uptake of treatment)
25% is up to your therapist to do your treatments well
When considering these factors, it's important to note that much of the result is affected by your medical profile, age, fitness level, vices, occupation and lifestyle. The body is always changing, so it's important to maintain results to avoid relapse.