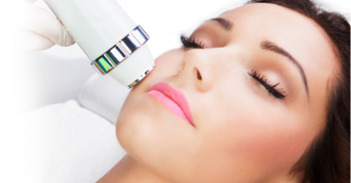 Enhance your youthful appearance without any pain, injections, surgery or even any downtime.  RF treatments provide you with an active solution in the fight against aging.
Facial & Body RF is a 30 minute treatment approximately, dependent upon how quickly the area warms up.
The revolutionary RF technology provides very accurate dermal heating using very little energy, painlessly, and begins to smooth and tighten your skin immediately. Tighter skin can be seen even after one treatment.
Clinically proven on all skin types to regenerate collagen tighten and tone the skin and improve overall skin texture. RF treatments can gently and effectively tighten the skin on your forehead, eyes, cheeks, mid-face, nasal label folds, jaw line & neck.
Used in conjunction with our new Ultrasound Fat Cavitation Body technology or on it's own (dependent upon the individuals needs) it is also beneficial for arms, tummy, buttocks & thighs.
RF treatments are the ideal solution to enhance your skin's appearance and rid yourself of the signs of aging. The treatment is non-invasive, easy and safe.
HOW DOES IT WORK?
This amazing  technology delivers RF energy to the deep layers of the skin all the while protecting the surface layer. Collagen is heated, creating immediate contraction, new collagen formation long term and improved circulation for better oxygen supply and greater toxin clearance to reduce further signs of ageing in the area, followed by remodeling of the deep collagen which in turn over a full treatment course produces tighter, more youthful skin.
HOW DOES IT DIFFER FROM THE REST?
Radio Frequency  treatments provide selective dual electro-heating of collagen in one applicator,creating simultaneous heating of deep and shallow tissues.
Further, there is no need for any cooling as with other traditional methods, therefore utilising all energy for the best and fastest possible outcome. Ultimately resulting in a safer treatment with immediate visible results from the first treatment.
Offering a treatment course that requires less appointments, saving time and money.
WHO IS A CANDIDATE FOR TREATMENT?
Since radio frequency energy does not utilise any type of light and the treatment consists of only heating the tissues under the skin, women of any age or skin type are potential candidates.
If you are ready to look and feel younger then, this treatment is definitely for you.
HOW MANY TREATMENTS WILL I NEED?
A typical treatment course consists of 6 -10 treatments. Each session takes approximately 20 to 30minutes (depending on the area treated and how quickly heating up occurs. This is due to weather, area and individual's body shape and size). Followed by a maintenance session once every 4-8 weeks.
WHAT HAPPENS AFTER TREATMENT?
Immediately after treatment, some redness and warmth can be seen and felt on the skin. Both should disappear within an hour or so following the treatment.
WHEN CAN I EXPECT TO SEE RESULTS?
Immediate results are seen in almost all patients during the first treatment. Further, full results can be seen over a full treatment course.
WHAT DO THE TREATMENTS FEEL LIKE?
Clients usually experience a mild tingling and a gentle heating sensation. The treatment feels like a warm massage.
HAS IT BEEN CLINICALLY TESTED?
Radio Frequency  treatments have been clinically proven to tighten and re-contour the skin; leaving skin looking firmer and younger.
Benefits
RF technology focuses the RF energy right where it is needed. Requiring much lower energy than older RF technologies, wherein eliminating pain during the treatment to the client.
RF technology uses sophisticated algorithms to control the electrodes, varying the current and polarity to achieve variable energy focus in different layers resulting in visible clinical results from the first treatment.
The  RF configuration and sophisticated control algorithm eliminates the need for skin and applicator cooling resulting in a more efficient treatment.
RF technology delivers focused energy achieving a better and faster outcome, resulting in fewer treatment sessions.
RF technology does not use any type of light in its treatment, therefore making it applicable for all skin types and colors. 
An effective procedure that feels like a warm massage. Clinically proven for skin tightening, contouring, sculpting and localised fat reduction. NON SURGICAL. Effective and immediate results seen in the areas of face, neck, thighs, tummy, arms and buttocks. A typical course of treatments once a week. Maintenance treatments will follow 4-8 weeks.
PRE AND POST PROCEDURE REQUIREMENTS AND INFORMATION FOR RADIO FREQUENCY TO FAT CAVITATION
Radio Frequency or RF   is the localised heating of a specific area. This treatment has been in the medical industry for 30 years. It was quite an uncomfortable treatment in the past during application and needed extensive cooling. The new RF procedure is like the sensation of a warm massage. This treatment has fairly immediate results with no downtime. The tissue is heated to a certain temperature that is constantly gauged by the therapist with the result of fibroblast cells being increase thus tightening the skin and lipolysis occurs (which is the fat cells being heated to drop excess liquid fat out of the localise area). Circumference loss, good skin texture, increased firmness and laxity are the positive results of this exciting and innovative new technology.
Fat Cavitation is an ultrasound stimulation procedure with probes small and large @ 40 KHZ where the local noradrenalin is released from sympathetic nerve terminals and lipolysis activation occurs. Ultrasonic waves are transmitted causing micro-bubbles which start to collide and implode producing shock waves that favour emulsification of fat cell and tissues. This then releases free fatty acids (FFA) and glycerol (breakdown of fat) in blood stream for easier energy consumption of subcutaneous and visceral fats thus aiding a local and longer lasting slimming effect. The liquid is then eliminated through the body using the lymphatic and urinary system. Exercise further helps to use this energy up.
PRE AND POST TREATMENT REQUIREMENTS RADIO FREQUENCY AND FAT CAVITATION TREATMENTS
Before and after treatment please drink plenty of water
Should be drinking 8-12 glasses of water per day normally
Eat a moderate diet obviously a clean diet the more fresh and unprocessed such as fruit, vegetables and meat the better.
May sometimes experience in the initial stages of treatment nausea after treatment as toxins have been pushed around the body
Do not smoke and if you do please ensure that you push your next cigarette time after treatment out gradually post treatment
Medications, drugs and alcohol should not be consumed on the day of treatment. It is important to check with your therapist about your medications and be honest.
Please note it is of utmost importance that you get your individual heart rate up by exercising within 4- 6 hours after RF and Fat Cavitation treatments as you want to use up the energy so fats do not resettle back in your system.
Ensure you are not sunburnt prior or post treatment. 
If doing Ultrasound Fat Cavitation with RF Treatments ensure that you are well hydrated pre and post treatments.  
NO heating treatments are to be done on the day of procedure such as e-light, laser or pulsed light treatments in the local area.
Keep your therapist updated with any changed health issues, new medications or reactions as you continue with your treatments.
Choose appointments wisely as cancellations fees will strictly apply.
 PLEASE CONTACT OUR  CLINIC A.S.A.P IF ANY PROBLEMS
Work number 93720399
Mobile number 0419387186
Considerations
These treatments are a helpmate along with your lifestyle changes and management.
If you are not undertaking what is asked of you then please do not expect good results. You will only get what you put into this. That is life.
70% is up to you regarding your diet, water, lifestyle and exercise
5% is all about your general health (eg.polocystic ovaries, medications) and age (the older the slower the uptake of treatment)
25% is up to your therapist to do your treatments well
Much of the result will vary dependant on individual age, fitness level, lifestyle, vices, medical profile and occupation. Also take into account there will be a certain amount of maintenance due to the body being dynamic or changing rather than static never ageing or remaining the same (this is not a realistic mindset). Surgery isn't even permanent!