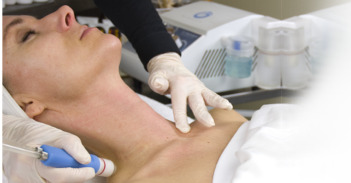 Clinically proven results for acne, anti-ageing, rejuvenation, resurfacing, healing and brightening the skin.
This next generation microdermabrasion combines the technology of different (coarseness or polishing) diamond tips, controlled pressure and vacuum along with gentle Aquafuse solution which infuses into the exfoliated skin for different results. All achieving the desired result for the patient without downtime or irritation as with the traditional method of microdermabrasion. 
This technology can be used in conjunction with other clinical treatments such as Bio Synthesis LED Light Therapy and Pulsed light treatments or simply on its own.